Tourism, trade team up for grand sale 2010
The Departments of Culture, Sports, and Tourism and the Departments of Industry and Trade in Hanoi, HCMC, and Danang have joined with the Vietnam National Administration of Tourism (VNAT) to promote the Impressive Vietnam Grand Sale 2010 program, a tourism official said.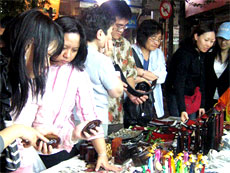 Vu The Binh, Director of Department of Travel under VNAT said that VNAT completed talks with HCMC's Department of Culture, Sports, and Tourism and Department of Industry and Trade about the joint program set for August and September. Similar talks occurred inHanoiand Danang as well.
The relevant departments from each locality will sign cooperation deals to carry out the program. Over the two months, shopping centers, retail outlets, and other traders will offer promotions, discounting products and services for both locals and foreigners from 10% to 40%. Traders can contact either of the departments in their city to join the program. VNAT plans to offer discount coupons to international tourists via travel companies too.
"The two departments in Hanoi will review the joint program's contents today to sign the cooperation deal," Binh said.
Binh added that promotion fairs, in Ho Chi Minh City, Hanoi and Danang, would coincide with the Impressive Vietnam Grand Sale 2010 program. HCMC plans to hold its fair in November while Hanoi and Danang's will take place in December.
The Impressive Vietnam Grand Sale 2010 program is part of a national marketing campaign called "Vietnam – Your Destination". VNAT expects the first Impressive Vietnam program to enable the country's tourism sector to organize yearly grand sale schemes similar to other regional countries to attract visitors.
"For the long term, we aim to develop shopping centers to promote shopping tours, in order to increase tourist spending in Vietnam," Binh said.
He added that this year the organizer is unable to promote the program to foreign guests earlier. However, next year's program will be displayed in travel brochures to encourage more tourists to visit Vietnam.
According to VNAT, more than 473,500 international visitors came to Vietnam last month, up 56% year-on-year, bringing the total number of foreign visitors in 2010's first quarter to more than 1.35 million, up 36.2% compared to the same period last year.