We have teamed up with Viet Vision Travel, one of the leading tour operators in Vietnam. All the tours on our site are provided by Viet Vision Travel, and will be handled by their experienced travel advisors.
We guarantee that all tours cost the same or even lower than those on Viet Vision Travel' website.
Booking with us you will gain yourself Vietnam Travel Points, which can be changed into gifts, future tours and even cash.
All of our travel advisors are experienced travel professionals who, assisted by a team of support personnel, are able to provide the latest information about traveling in Vietnam.
Viet Vision Travel is committed to quality in all aspects of the products and services we provide. Our tours will be an unforgettable experience and extremely good value for money.
Click for details...
Hanoi Transportation
Public transport is limited to buses, which are extremely cheap, but slow, crowded and a challenge for non-Vietnamese speakers. There are plenty of taxis to be hired and this is the safest and easiest way to get across the city.
Motorbike taxis are also a cheap and easy way to get around. Renting a car or a motorbike are also popular options; all cars come with a driver/guide, which is a good idea considering the chaotic nature of the streets. Visitors should be cautious about renting a self-drive motorbike, bearing in mind the primary cause of injury and death among foreigners in Vietnam is due to motorcycle accidents. Two-seater cyclos (cycle rickshaws) are plentiful and can be flagged down anywhere, but should be avoided at night. Fares should be negotiated beforehand and a map is useful, as many drivers don't speak English.
Hanoi Airport: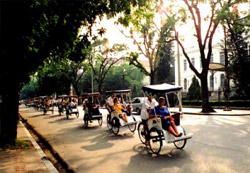 The airport is around 35km (21 miles) north of the city. It is the second largest of three international airports in the country (Ho Chi Minh City being the largest) and it serves cities in Asia and Europe with regular flights to Bangkok, Hong Kong, Singapore and Kuala Lumpur. The terminal is spacious and modern.
Airport Code: HAN
Full Airport Name: Noi Bai International Airport
Time Zone: GMT +7.
Phone Number:
Tel: +84 (0)4 827 1513, (0)4 826 8522, or (0)4 886 5060.
Ground Transport:
Airport minibuses and metered taxis are available outside arrivals for transport to the city center. Use an official taxi, it should be indicated on the driver's name badge.
Vietnam Airlines operates a bus service into the city and its office on Quang Trung Street and there is a public bus to Kim Ma Bus Station. Metered taxis are also available.
Airport Facilities:
Airport facilities include bureau de change, duty-free shops and cafes. There are no car hire providers at the airport.
Departure Tax:
US$14 for international flights.
Getting There By Road: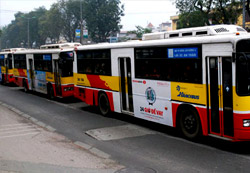 The road network throughout Vietnam is reasonable but the standard of the roads varies dramatically from good to appalling. Roads throughout Vietnam are designated by numbers and the main north to south route is Highway 1 connecting Hanoi with Ho Chi Minh City. In theory, traffic drives on the right but in practice drivers take the most direct path avoiding the many thousands of bicycles, motorbikes and animals wandering along the road. As self-driven car hire for visitors is non-existent, visitors to the country have to hire a car with a driver.
There are several bus stations around the city, each serving different destinations. Some express services to Ho Chi Minh City are in relatively modern air-conditioned buses. Services on short journeys depart when they are full and those traveling longer distances generally depart early in the morning.
You shouldgo to the bus station the day before to check the schedule for the following day and buy a ticket. A very useful number is 1080 where English-speaking operators can give information on timetables.
Buses to Halong Bay and Haiphong depart from Gia Lam bus station on Ngo Gia Kham (tel: (04) 827 1529). Kim Ma bus station, Nguyen Thai Hoc (tel: (04) 845 2846), has buses to the northwest of the country including Dien Bien Phu. Towns south of Hanoi, including Ho Chi Minh City, are served by buses from Giap Bat bus station on Giai Phong (tel: (04) 864 1467).
By Rail:
Duong Sat Vietnam trains leave from Ga Hang Co, 120 Le Duan (tel: (04) 942 3697 or 3949 for e-ticketing; in the southwest of the city, the starting point for trains north to Lao Cai, east to Haiphong and south to Ho Chi Minh City. The entrance for northern services is on Tran Quy Cap (tel: (04) 942 3433 or 747 0308). There is only one major rail route in Vietnam from Hanoi to Ho Chi Minh City, with minor routes to northern towns from Hanoi. Internationally, there is a twice-weekly train service to Beijing.
You can buy tickets in person at the station where there is a special counter for foreigners. In addition, a very useful number is 1080 where English-speaking operators can give information on timetables. For long distances, it's best to book soft class sleepers (four people in each cabin) or soft seats for shorter distances. The alternative hard class sleepers (six people in each cabin) and hard class seats are uncomfortable and crowded. The train is a popular way to travel in Vietnam and trains are heavily booked around public holidays like Tet.
Public Transport:
The public bus system in Hanoi is very cheap but confusing and few short-term visitors to Hanoi will attempt it. There are around 40 bus routes operated by Hanoi Bus. Monthly passes are available. There is a hotline for bus information (tel: (04) 843 6393).
Taxis: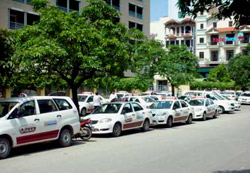 Taxi and cyclo are the best way to travel around Hanoi. Several taxi companies operate within the city and they are all metered. Restaurants, bars and hotels are quite happy to summon a taxi; otherwise vehicles can be hailed on the street. Visitors are advised to check that the meter is turned on. Reliable taxi companies are Airport Taxis (tel: (04) 873 3333), Hanoi Taxi (tel: (04) 853 5353) and Mai Linh Taxi (tel: (04) 822 2666). Cyclos often wait outside hotels and restaurants and a fare should be negotiated to your destination before setting off. Motorbike taxis can be found on street corners and these are a fast way of getting round the city.
Car Hire:
You can hire one with a driver from tour operators.
Bicycle Hire:
You can hire a bicycle for a day or longer period from a number of outlets on Hang Bac Street in the Old Quarter.
If you are confident on a motorbike you can hire them from shops. You will need an international driving permit and a helmet is now compulsory.