Hotel Tour
We have teamed up with Viet Vision Travel, one of the leading tour operators in Vietnam. All the tours on our site are provided by Viet Vision Travel, and will be handled by their experienced travel advisors.
We guarantee that all tours cost the same or even lower than those on Viet Vision Travel' website.
Booking with us you will gain yourself Vietnam Travel Points, which can be changed into gifts, future tours and even cash.
All of our travel advisors are experienced travel professionals who, assisted by a team of support personnel, are able to provide the latest information about traveling in Vietnam.
Viet Vision Travel is committed to quality in all aspects of the products and services we provide. Our tours will be an unforgettable experience and extremely good value for money.
Click for details...
HANOI TOURS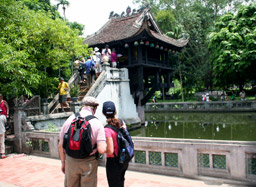 Hanoi Capital is one of the most visited of the Vietnam popular destinations, is the beautiful capital city of Vietnam, sprawling in the banks of the Red River with French colonial heritage. Throughout the thousand years of its eventful history, marked by destruction, wars and natural calamities, Hanoi still preserves many ancient architectural works including the Old Quarter and over 600 pagodas and temples. Famous sites include the One Pillar Pagoda (built in 1049), the Temple of Literature (built in 1070), Hanoi Citadel, Hanoi Opera House, President Ho Chi Minh's Mausoleum…
If you would like to travel in Hanoi and have no idea how to find out, which the most famous attractions are and how to get there, then you have found the right place. Hanoi Guide has large variety of Hanoi tour package to offer you. We offer tour packages as simple as Hanoi half day tour, Hanoi daily tour, city tours, as well as tours from Hanoi to the neighboring areas such as famous Halong Bay, Sapa, Hoa Lu – Tam Coc, Cat Ba island, Perfume Pagodas, Cuc Phuong National Park… Contact us now to get the best deals!

You might be also interested in: Vietnam Tours, Halong Bay Tours, Sapa Tours, Hue Tours, Hoi An Tours, Nha Trang Tours, Ho Chi Minh Tours, Mekong Delta Tours