Thay Pagoda Hanoi
The pagodas arc about 30km south-west of Hanoi. Hanoi's cafes catering to budget travellers can arrange combined day tours or the Thay and Tay Phuong pagodas.
Thay Pagoda (the Master's Pagoda), also known as Thien Phuc (Heavenly Blessing), is dedicated to Thich Ca Buddha (Sakyamuni, the historical Buddha) and 18 arhats appear on the central alter. On the left is a statue of the 12th-century monk Tu Dao Hanh, the 'Master' after whom the pagoda is named; on the right is a statue of King Ly Nhan Tong, who is believed to have been a reincarnation of Tu Duo Hanh, In front of the pagoda is a small stage built on stilts in the middle of a pond; water-puppet shows arc staged here during festivals.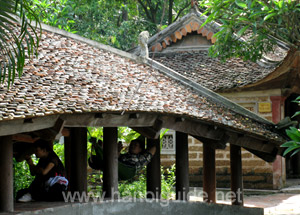 The pagoda therefore consists of 3 sections: Ha Pagoda, Trung Pagoda, and Thuong Pagoda. The outer part, Ha Pagoda, is a place for offerings and ceremonies; the middle part, Trung Pagoda, is a place for worship of Buddha; and finally, the inner part is a place for worship of Priest Tu Dao Hanh. An automated sandalwood statue of Tu Dao Hanh that stands and sits is located in a red lacquered shrine trimmed with gold and covered with a curtain.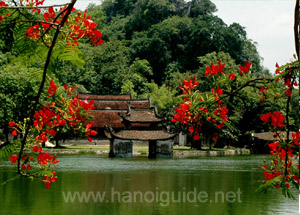 In front of the pagoda is Long Tri pond, in the middle of which is a stage called Thuy Dinh, where water puppet performances are held. Nhat Tien and Nguyet Tien Bridges, built by Doctor Phung Khac Khoan in 1602, are located on each side of the stage.
The pagoda's annual festival is held from the fifth to the seventh days of the third lunar month. Pilgrims and other visitors enjoy watching water puppet shows, hiking and exploring caves in the area.


Tag: Hotels in Hanoi, Hanoi Tours, Halong bay cruises, Mekong river cruises, Ho Chi Minh city Tours
Other Hanoi Attractions