Temple of Literature Hanoi
The Temple of Literature (Van Mieu) is a pleasant retreat from the streets of Hanoi. It was founded in 1070 by Emperor Ly Thanh Tong, who dedicated it to Confucius (in Vietnamese, Khong Tu) in order to honour scholars and men of literary accomplishment.
The temple constitutes a rare example of well-preserved traditional Vietnamese architecture and is well worth a visit.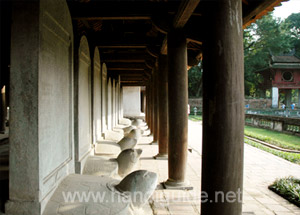 Vietnam's first university was established here in 1076 to educate the sons of mandarins. In 1484 Emperor Le Thanh Tong ordered that stelae be erected in the temple premises recording the names, places of birth and achievements of men who received doctorates in each triennial examination, commencing in 1442. Though 116 examinations were held between 1442 and 1778, when the practice was discontinued, only 82 stelae are extant. In 1802 Emperor Gia Long transferred the National University to his new capital, Hue; Major renovations were carried out here in 1920 and 1956.
The Temple of Literature is made up of five separate courtyards divided by walls. The central pathways and gates between them were reserved for the king. The walkways on one side were solely for the use or administrative mandarins; while those on the other side were for military mandarins.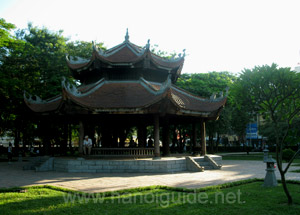 The main entrance is preceded by a gate on which an inscription requests that visitors dismount their horses before entering. Kim': Van Pavilion, at the far side of the second courtyard, was constructed in 1802 and is a fine example of Vietnamese architecture. The 82 stelae, considered the most precious arte facts in the temple, are arrayed to either side of the third enclosure; each one sits on a stone tortoise.
The Temple or Literature is 2km west or Hoan Kiem Lake (see Central Hanoi map). The complex, which is 350m by 70m, is bounded by Pho Nguyen Thai Hoc, Pho Ton Duc Thang, Pho Quoc Tu Giarn and Pho Van Mieu. Enter from Pho Quoc Tu Giam. It is open Tuesday to Sunday from 7.30 to 6 pm (8 am to 5 pm from November to March); the entrance fee is 12,000d (US$0.85).
If you're looking for a great place to eat near this site, try Koto; just across the road on Pho Van Mieu (see Places to eat later in this chapter).


Tag: Hotels in Hanoi, Hanoi Tours, Halong bay cruises, Mekong river cruises, Ho Chi Minh city Tours
Other Hanoi Attractions